Description
Guardian Angel Necklace For New Beginnings.
Our Angel Necklace for New Beginnings with her 5 moonstone crystals comes beautifully presented in our satin lined box, with sterling silver chain and printout. Length 2.5″. We post worldwide.
The Guardian Angel Necklace for New Beginnings is the Angel who smooths all transitions, including women's lunar cycles, and helps us to connect deeply with our Angelic, Archetypal, Feminine Wisdom.
The lovely Angel with 5 sparkling moonstone crystals and silver wings brings a different kind of courage and strength to those seeking help at the beginning of any new, life cycle, or life project. Her gentle, femine approach soothes our emotions with a promise of angelic support, reminding us that transitions are sometimes hard but always bountiful, and that progress is impossible without change.
Making big life changes can be scary, as trying something new can be too. But do you know what's even scarier? … Regret.
So realize that most of your fears are much bigger in your mind than they are in reality; you'll see this for yourself as soon as you face them. Don't let them stop you.  Live your life so that you never have to regret chances you never took, the love you never let in, and the gifts you never gave.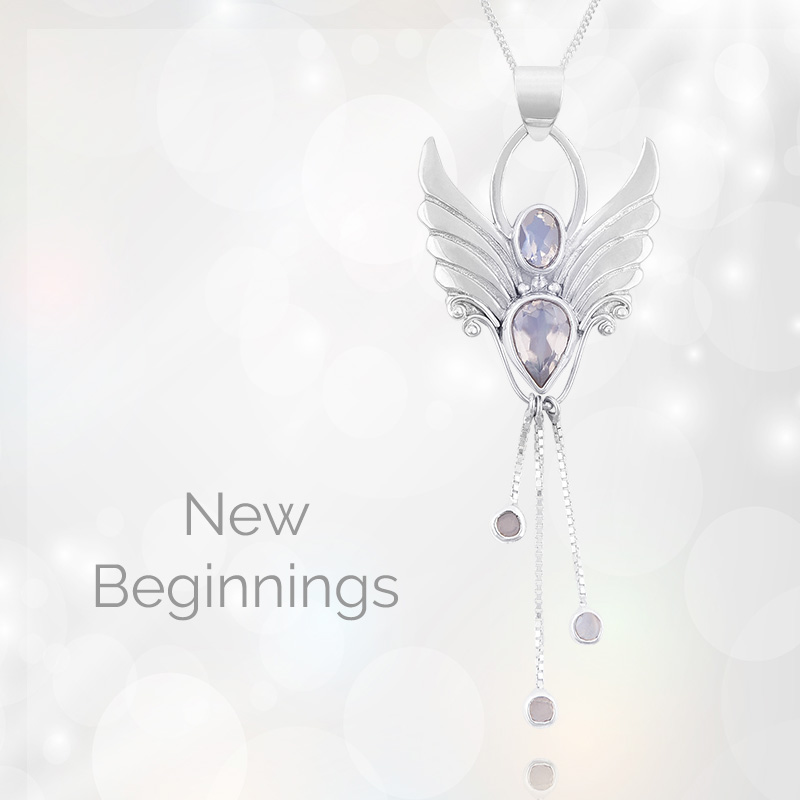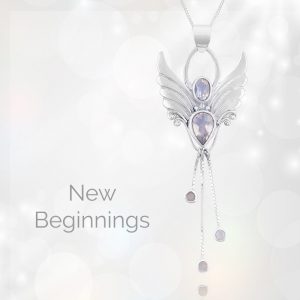 Psychology has something called the Goal Mindset and it is a useful in all aspects of life but especially new beginnings. It is broken up into two types of mindsets: a fixed mindset and a growth mindset.About Angel Jewelry.
When we have a "fixed mindset" we focus on performance. We want to be perfect right from the start, otherwise we see effort as futile. We worry about what others will think of us as we face challenges, and we hesitate to take risks for fear of failing.
When we have a "growth mindset" we are driven by learning. We believe that we CAN improve even if we aren't perfect right from the start. We realize we will grow from challenges and failures, we see risks as opportunities for development and we're not afraid to ask for help, because we know we're worth it.
About Angel Jewelry.
All our Angel Jewellery pieces are made by hand in my workshop. I know where each piece comes from and who makes it.
We also pay attention to where our materials come from and class our Angel Jewellery as ethically made under fair trade guidelines.
Please be assured this is not a factory made product. Each piece is unique, and won't be found on the high street.
If you have any questions please email me at linda@angeljewellery.ie or call me on +44 07858122156
Angel Jewellery Delivery. Orders within UK take 1-2 working days by Royal Mail Special Delivery. We post Worldwide with Royal Mail International Tracked service which is a safe, insured delivery service which takes 5-7 working days for international destinations. Please email me if you need expedited delivery by DHL.