The Story of Kwan Yin. Angel Jewellery.
Pendant size 5cm x 7cm.  The Gemstones used in this Kwan Yin necklace are Amethyst, Aquamarine, Peridot, Moonstone and Aventurine.

The Kwan Yin gemstones
I have chosen these gemstones to represent and resonate with the unique energies and symbolism of the Chinese Goddess Kwan Yin, Goddess and Angel of Universal Unconditional Love, Forgiveness, Motherly Protection, and Mercy.
Known also as the Bodhisattva of Compassion, this beloved deity Kwan Yin holds many titles in many countries across Asia. Her name evokes similar qualities as those attributed to the Virgin Mary. In both cases, they will help us associate with the qualities of motherly compassion, forgiveness and unconditional love. Kwan Yin may be compared to Mother Mary in the West, the Virgin of Guadeloupe in Mexico, and has also been called the Buddhist Madonna.
Images of Kwan Yin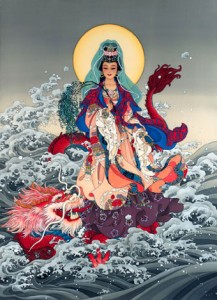 There are many beautiful images of Kwan Yin in which she is depicted pouring her healing nectar onto the world from a sacred vase, her hands in sacred mudras holding pearls of illumination and bundles of ripe rice, or meditating.
She is sometimes depicted holding children and giving food, as expressions of her divine loving energy. – I hope you have enjoyed this small piece of information about the Goddess Kwan Yin, and my Kwan Yin pendant. – Please leave a comment, we love to hear from you.
As always, love and blessings
Linda