Buy An Angel Pendant And Help A Child.
It isn't the neighbors keeping you awake tonight..
.
It's a feeling that the world's going crazy, and your usual statements about powerlessness aren't acceptable reasons to do nothing, nor do they guarantee a comfortable night's sleep anymore.
There is a way you can take action when you buy an angel pendant in July.
Grandma had this Victorian version of karma which went something like  "You've made your bed, now lie in it", meaning that when you make a decision or take an action you have to accept the consequences – you can't complain because there's no one to blame but yourself.  "But Granny," I used to say, "what about the poor children who don't have a bed?"
Born in London at the turn of the last century -1901, underneath her satin and pearls, my granny was tall, tough and fearless.
She was the fundraiser for my grandfather's hospital in the slums of Liverpool, where children would harm themselves just so they'd get a bed for the night and a couple of good meals.
As a child, grandma took me to the children's ward every Christmas, to visit the thin, motley bunch of children, where it was my job to give each child their single and only Christmas present.
I was the girl in a new red wool coat, who was standing beside that Christmas tree in the ward, smiling a smile that probably did nothing to hide the feeling of utter downheartedness I felt inside as I looked around at those children's faces, those children's eyes – and oh the shame when that boy, a little older than myself, smiled back at me from his bed.
I always left there with more feelings than I had words to express. We were all just kids, but somewhere between gratitude and guilt, my bed seemed infinitely better than theirs. I saw a tiny baby there too, and her memory haunted me.
I think I learned about gratitude in that children's ward, and even at that early age I felt compelled to do something, however small it was.
On the way home in the back seat of grandfather's car, I told the Angels about the children in the hospital ward and the little baby. And I asked them to please, go and look after everyone.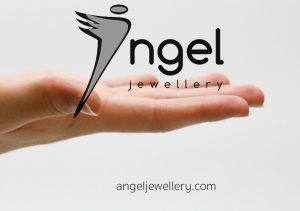 And that's what I still try to do today, because, between you and I and the obscenely wealthy people who run this world, we've got to DO SOMETHING  – any little thing that helps to make the world safer and more comfortable for everyone.
So here's what I'm doing.
For the rest of JULY when you buy an angel pendant I'm donating 25% of all my angel sales to
SAVE THE CHILDREN FUND
For those of you who don't know much about me yet, we often do a fundraiser with the Angel pendants and to set your heart at rest I make sure you get the donation receipt number so you can check the validity of our donation at the end of the month.
Our donation receipts will be published on our Facebook page ANGEL JEWELLERY.
It's nice to think that we can MAKE A DIFFERENCE while in the process of purchasing something as lovely as an Angel Pendant. It's a really easy way we can all help to send the love and comfort of the angels to the people who need it most.
Wearing one of my angel pendants, we are reminded that any time we ask angels to help others, someone's suffering is alleviated.
And this isn't just wishful thinking. Science now accepts that the power of sending healing THOUGHTS and INTENTION really WORKS!
Don't suffer that awful feeling of powerlessness any longer, you CAN do things to help. Little things add up, we make sure of that.
If you are planning on buying an Angel Pendant as a birthday present for a loved one, or you want to buy an Angel Pendant to help you to build your confidence, or to help you find inspiration to write that book that's still in you, you will feel even better knowing that $25-40 dollars from every sale will be going to SAVE THE CHILDREN'S official global charitable organisation at the end of July.
Angel lovers, healers and light workers.
I would love to hear from any of you, anytime. There is nothing so inspiring as the love, inspiration, and support from other angel people. Let's get together, pool ideas..let me know what YOU are doing by leaving a comment…thanks!
Lots of Love, as always.
Your angel guide
Linda. ❤️☮️🌸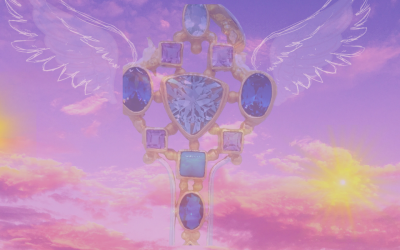 Sword & Stone In The New Archangel Michael Necklace I've added a subtle suggestion of a sword along with 4 amethyst crystals in my NEW version of the Archangel Michael Necklace. Not that I'm a fan of weaponry or anything like that, but more because of its...